Is this the real Galaxy S10+? Is this just fantasy?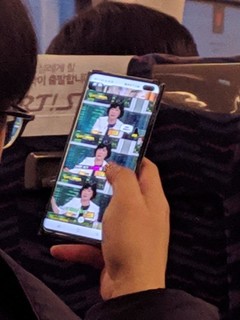 An intentional leak or an unsuspecting guy caught on public transport? Call it what will, but someone may have been spotted on a bus in South Korea using what could be the Samsung Galaxy S10+. One Redditor user who elaborated on the likely origins of the photo too and some specifications for the upcoming device has since deleted their account too, adding to the speculation that this may actually be a look at the Galaxy S10+.
The Galaxy UNPACKED conference is less than a month away, but we may just seen a first look at the Galaxy S10+ courtesy of u/hissick27 on Reddit. The device resembles some of the more recent Galaxy S10+ leaks with its Infinity-O display and its dual front-facing cameras. Additionally, the device appears to be fitted with the same folio-style case that we saw with last month's alleged sighting of a Galaxy S10 on a South Korean subway. However, another Reddittor, who claimed to work for Samsung, stepped in to clarify where the photo was likely to have been taken, which then turned into an impromptu ask me anything (AMA).
r/ActuallyWorkonBixby, who had posted several on Bixby and Samsung related threads in the last year, then went into great detail about the Galaxy S10+. They confirmed that the photographed device was the S10+ and that it has a headphone jack, an in-screen fingerprint sensor, and no iris scan among other details. They also remarked that they had found it hard to locate the in-screen fingerprint sensor as the "UI doesn't guide you to it from the lockscreen". They also stated that the Galaxy S10 is more of an evolutionary release rather than a complete overhaul of the Galaxy series.
Interestingly, r/ActuallyWorkonBixby has since deleted their account, but you can view the full comment thread here. We have provided a screenshot of the AMA too in case the link goes down. It is worth keeping in mind that this could be another marketing tactic by Samsung to generate more speculation about the Galaxy S10+, but the candidness, specificity and then hasty deletion of r/ActuallyWorkonBixby's comments suggest that they gave away more details about the device than they should have done.
The Galaxy UNPACKED event will take place in San Francisco on February 20. We will keep you updated with all that is announced on the day, but you can also head to samung.com on the day if you would like to watch a live stream of the event.
What do you think of this latest look at the alleged Galaxy S10+ its dual front-facing camera cut-out?