Pixel 3 and 3XL users allege call-quality issues in their phones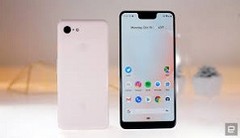 A number of Pixel 3 and 3XL owners have reportedly taken to the Google Product Forums to complain about issues with voice-calls on their devices. These problems apparently include low-quality in-call audio, connection issues and more. On the other hand, there are claims that the December Android 9.0 software update is a solution in some cases.
Voice calling: no-one seems to care about it these days - until it goes wrong, that is. Some owners of the Pixel 3 and 3XL are now reportedly complaining of a panel of issues with this basic smartphone feature. These problems allegedly include buzzing and tinniness during calls; microphone malfunctions that result in the inability of the caller to be heard for some or all of the call; choppiness and other strange effects such as word-stacking. Many of these problems are documented on Google's Pixel User Community, and have also been reported by Android Police.
Some of these issues appear to be related to voice-over-LTE (VoLTE), and may be resolved by turning the feature off in the Pixel 3 or 3XL. However, others apparently affect calling over WiFi or conventional radio. They appear not to affect every call made or received on the devices, or not manifest themselves until a few minutes into a call.
Google has responded by issuing RMAs in some cases. In addition, some users have claimed that their call-quality problems abated after installing the latest software update with the December 2018 security patch level. Others, however, have apparently asserted that their problems are unchanged or have gotten worse as a result of the same.