Possible Google Pixel 3 Lite images leaked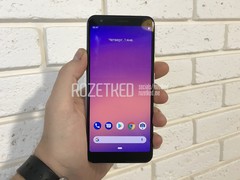 Images of what is purported to be a Google Pixel 3 Lite device have been leaked online. The pictures show a smartphone that features a 3.5 mm jack and is not blighted with the presence of a notch. Specifications for the device are also listed with the leaked images, suggesting it will feature a Qualcomm Snapdragon 670 as SoC.
A Russian tech blog called Rozetked has published images of a rumored Google Pixel 3 Lite smartphone. The device in question is shown in a plastic casing, rather than the premium glass used for the Pixel 3 and Pixel 3 XL. The front side shows there are no notches obscuring the display, although the top and bottom bezels are quite wide. A 3.5 mm port can also be seen in some of the images (see below).
The article reveals some of the specifications connected with the device in question: Snapdragon 670, Adreno 615 GPU, 4 GB RAM, 32 GB storage, and a 2,195 mAh battery. All this is housed in a case that also supports a 5.56-inch IPS display sporting a resolution of 2220x1080. One of the specifications claimed that is raising some eyebrows concerns the on-board cameras. The anonymous user of the pictured phone states that the camera in the prototype/mock-up has the same highly praised quality as the regular Pixel 3 device.
It has been pointed out that the phone in the leaked images has a noticeable "C" logo on the rear, whereas Google Pixel 3 phones obviously come with the official company "G" logo on the back. This may mean the whole leak is a hoax, or there could be another explanation for the discrepancy. It is even possible this is the "Sargo" device Notebookcheck reported on recently. Unsurprisingly, Google has yet to confirm the existence of a Pixel 3 Lite device.