Mobile variants of Nvidia's Quadro RTX GPUs revealed in leaked Dell Precision workstation documents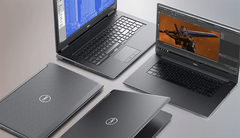 Leaked documents providing information about upcoming Dell Precision laptops have revealed that Nvidia will be releasing mobile versions of its Quadro RTX graphics cards. It has been planned that the Dell Precision 7540 and 7740 workstations can be configured with the new high-end graphics solutions to work alongside their 9th Gen Intel Core CPUs.
It appears Nvidia is far from done with the mobile side of the RTX lineup that is based on the Turing microarchitecture. The company has only just finally revealed the GeForce GTX 1650 and GeForce GTX 1660 Ti mobile GPUs, and now it seems the green team has swiftly moved on to providing mobile Quadro RTX GPUs for laptops, with Dell's upcoming Precision 5540, 7540, and 7740 laptops being lucky recipients.
The leaked document in question, which is titled "new Precision mobile workstation positioning," mentions a "new mid-level Nvidia Quadro" for the Dell Precision 5540, while the Precision 7540 and 7740 laptops will be given the choice of up to a "new high-end Nvidia RTX Quadro." Buyers can also choose an AMD Radeon Pro WX4150 for the 7540 or an AMD Radeon Pro WX7100 for the 7740 instead.
Apparently, users will also be able to configure the powerful top-end 17.3-inch Dell Precision 7740 with up to 8 TB storage (four slots) and a maximum 128 GB RAM to support the 8-core processor and Nvidia Quadro RTX mobile GPU. It's not specified which of the current Quadro RTX desktop graphics cards will soon be released as mobile variants, though. However, it shouldn't be too long of a wait to find out: A leaked Dell roadmap for the Precision workstations notes a 3Q 2019 release timeframe, with a launch for the new workstations seemingly falling in mid-July.