The next gen 7 nm Navi gaming GPUs currently tested in AMD's labs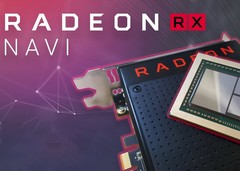 Inside sources claim that AMD's Navi GPUs are performing better than expected and could be launched in the first half of 2019 rather than the second. Previously rumored to be slower than the GTX 1080 from Nvidia, it looks like the red team managed to tune a few things and boost the overall performance. MSRPs are rumored to be in the US$250 zone.
Nvidia already launched the Turing gaming GPUs, and everyone is now waiting to see how the red team is going to respond. The latest Polaris 30 GPUs are clearly not meant to go head to head with the RTX 2000-series, and we also know that AMD's 7 nm Instinct GPUs are not designed for gaming, so the only true contender for the Turing chips should come in the form of the Navi GPUs. It is still unclear if AMD would showcase the Navi chips in January, but it looks like there is a chance, as one recent report claims the 7 nm next gen gaming GPUs from AMD are currently going through in-house lab testing.

Initially rumored to be launched in the second half of 2019, the Navi GPUs may actually come sooner than that, at least according to Fudzilla's report. The ongoing lab tests show that the Navi chips are performing better than expected, but there is no benchmark data to back things up as of yet. Fudzilla's source mentioned that the Navi GPUs should be considered mid-range solutions that are as fast or even faster than the GTX 1080 GPUs; however, AMD's solutions would be more affordable, going for US$250.

The information is sketchy at best, as previous rumors stated that the Navi solutions might not even match Nvidia's GTX 1080 speeds, but the price point data better puts things into perspective. AMD's RX Vega 64/56 cards are not really favored right now, since the pascal cards already dropped in price, plus the red team has been having issues with shortages in that department. Hopefully the Navi cards can offer similar performance for a fraction of the price.