Could this be Navi? New AMD 66AF:F1 GPU pops up on CompuBench, offers better graphics but lower compute performance than the Vega 64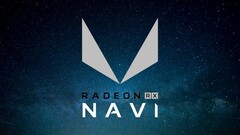 References to an unknown AMD GPU, AMD 66AF:F1, have popped up in the CompuBench benchmark site leading to speculation that this could be one of the Navi SKUs. From the initial numbers, we get to see that this GPU offers improved numbers in several memory-intensive compute tests over the Vega 56 but still trails behind the Vega 64. However, this GPU does seem to have significant leads over the Vega 64 when it comes to graphics performance.
Working For Notebookcheck
Are you a techie who knows how to write? Then join our Team! Especially English native speakers welcome!
Currently wanted:
News and Editorial Editor - Details here

An unknown AMD GPU has popped up in the GFXBench/CompuBench benchmark site and from the looks of it, seems to be one of the upcoming 'Navi' SKUs. The GPU is identified by its PCI Express ID 66AF:F1. It is still early to conclude but a glance at the scores gives an impression that this GPU scores very high on pure graphics performance compared to the Vega 56 and 64 but trails behind the Vega 64 and the new Radeon VII when it comes to compute scores
A comparison of the GFXBench scores of the AMD 66AF:F1 with the Radeon RX Vega 64 shows that the purported Navi variant leads significantly in the Aztec Ruins Normal Tier (1080p) and High Tier tests 1440p). This could imply that GCN6 in Navi is tailored more towards raw graphics than compute. We aren't exactly sure about the specs of this particular entry but expect to see variants with anywhere between 20 to 40 higher clocked CUs when Navi launches.
We also see that the new GPU variant performs very well in some compute benchmarks such as Ocean Surface Simulation (3586.462 fps) beating the Vega 56 (1769.359 fps) by a huge margin but trailing behind the Vega 64 (4042.065) whereas in some tests such as Face Detection, the Navi seems to lose out to even the Vega 56. The numbers in the Ocean Surface Simulation test, which is a memory intensive Fast Fourier Transform (FFT) compute benchmark, do seem to indicate AMD could stick to HBM2 as the memory of choice and not use GDDR6.
We've been hearing word that AMD is targeting Navi for the mid-range as well as the high-end segment to take on the NVIDIA RTX 2060 (Navi 12) and the RTX 2070 and RTX 2080 (Navi 10) at a very aggressive price. The performance from these initial numbers seem to suggest likewise. That being said, do take these numbers with a pinch of salt. It is only one comparison we are seeing right now and a lot of factors can influence the numbers. Also, we've seen Linux drivers listing 0x66AF as Vega 20 so this entry could actually indicate a Vega 20 GPU after all.
Apart from the transition to a 7 nm process, Navi is expected to bring improvements to power-efficiency as well. AMD is expected to unveil more details about Navi at Computex 2019 for a possible launch on July 7. However, that depends a lot on TSMCs abilities to make sufficient quantities by then, which could imply that the actual availability could be pushed to a much later date.