Driver code confirms AMD's Navi GPU series will be based on Graphics Core Next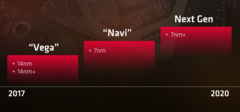 Radeon driver code for Navi has been spotted that appears to confirm the upcoming graphics solution from AMD will be based on the Graphics Core Next (GCN) microarchitecture. There was still some speculation that Navi might feature next-generation architecture that had been mentioned on AMD's graphics roadmap but that seems highly unlikely now.
Phoronix has reported about some lines of code that have started appearing in relation to AMD's forthcoming Navi graphics card. Commits were scoured and the term "gfx1010" appeared, which apparently refers to Navi. As GFX900 referred to Radeon RX Vega, it seems a reasonable assumption to make.
Unsurprisingly, being the first commits found that mention Navi, there's really not much information to be shared about the eagerly awaited graphics card series. However, at least one not unimportant detail seems to have been confirmed, thanks to this line of code highlighted by PCGamesN:
EF_AMDGPU_MACH_AMDGCN_LAST = EF_AMDGPU_MACH_AMDGCN_GFX1010
As can be seen in the line above, the AMD GPU is referenced along with GCN and GFX1010. If Navi is GFX1010 then it's logical to conclude that it will be based on GCN microarchitecture, which AMD has been using with its products since 2011. So no vaunted next-generation microarchitecture for Navi, but in all fairness, AMD's graphics architecture roadmap did specify "Vega", "Navi", and "Next Gen" as three separate parts of the company's plans.