AMD confirms Q3 2019 launch for Navi; initial price will be cheaper than the Radeon VII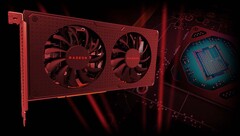 AMD has announced in an earnings conference call that its 7nm Navi GPU series will be launched in the third quarter of 2019. It is expected that there will be some sort of revelation about Navi at this year's Computex, which starts at the end of May, with a possible full reveal at E3 in the second week of June.
A Q3 2019 schedule for Navi has been revealed in an AMD earnings call. There have been plenty of rumors about when AMD would unveil and launch the vaunted GPU series, and it seems we are finally getting closer to a specific date. AMD's new Zen 2-based server CPU, Rome, will also be launched in the third quarter of this year.
There is reasonable speculation that AMD's chief, Dr Lisa Su, will at least tease Navi during her keynote address at this year's Computex; although it's possible Navi might just get a mention during her speech with the main focus resting on the upcoming Ryzen 3000 series. As Navi is the codename for the forthcoming graphics solution from AMD, it would make more sense to launch it at a more gaming-oriented convention.
This neatly leads to E3, which takes place just over a week after Computex. It would be the perfect place for AMD to properly show off the Navi lineup, as it will be gamers who are most excited about the hardware. It's then expected that July 7 will be the magical date when users will be able to get their hands on the 7nm-based graphics cards that the red team makes available.
It was also mentioned that products in the Navi series will be cheaper than the Radeon VII desktop graphics card, which had a launch price of US$699.