Navi 20-based AMD Radeon Instinct delayed to Q1 2020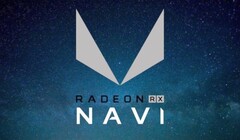 Expected to arrive in the third quarter of this year, it seems that not all the members of the upcoming family of AMD Navi-based video cards will show up at once. The Radeon Instinct, based on the Navi 20 GPU, has been apparently delayed to early 2020. However, the mainstream Navi GPUs might be available just in time for this year's winter holiday season.
When looking at the leaks and rumors that concern the upcoming AMD Navi GPUs, one cannot figure out much yet. The main reason is that the information — including the official presentations — lacks many details, especially when it comes to the launch dates. However, it seems that the lower-end Navi-driven video cards will show up before the end of the year, and those who are interested in grabbing a Navi 20-powered flagship product will have to wait for at least a few more months.
According to this fresh report on the AMD Radeon Instinct — quoted by Wccftech — the Navi 20-based flagships will come as the direct successors to the Instinct MI60, a product launched at the end of last year. However, the Radeon VII was introduced at CES 2019, so the next high-end product will probably show up one year later.
A rumor that has been around for a while claims that AMD's Navi 20 GPUs that are currently being tested failed in reaching the expected clock speeds while maintaining a good power consumption and a reasonable temperature, so delaying the launch to iron out the problem is a natural move.
The updated AMD Radeon RX 3000 specs sheet includes the following two Navi 20 models:
RX 3090 XT - 64 compute units, 225 W TDP, 10 percent faster than the Radeon VII, and a price tag of US$500
RX 3090 - 60 compute units, 180 W TDP, 10 percent slower than the Radeon VII, to be priced at US$430
Obviously, all the above should be taken with a large spoon of salt for the time being. However, AMD is expected to come up with a generous amount of official information at the end of the month, when Computex 2019 is scheduled to take place.