Nvidia's new GTX 1060 with GDDR5X memory is confirmed to use the same die as the 1070, 1070Ti, and 1080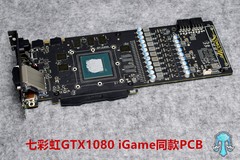 Previous speculations of this curious variant of the 1060 have been confirmed: this particular 1060 is actually based on the same silicon the 1070, 1070Ti, and 1080 are based on. Nvidia is likely getting rid of old Pascal and GDDR5X memory stock.
A listing for the new GTX 1060 GDDR5X edition card on the Chinese retail website Taobao has confirmed that the die the card used was the very same die used on Nvidia's 1070, 1070Ti, and 1080. When the 1060 GDDR5X was first heard of, many were confused because the typical 1060 die wasn't thought to support GDDR5X memory, having been launched in 2016 and designed years before to use GDDR5. The 1060 was also not thought to be memory bottlenecked by the typical GDDR5 memory, so some theorized the new 1060 may actually be a cut down 1080. This theory turned out to be correct.
Nvidia's reasons for releasing such a heavily cut down chip with seemingly overkill memory are simple, actually. This is likely a measure Nvidia has taken to keep moving old Pascal stock (in this case, highly defective GP104 dies that couldn't become 1070s) and old GDDR5X memory. GDDR5X was a very niche memory product and was only used on two Nvidia gaming GPUs, the 1080 and 1080Ti. It also only offered a modest increase in performance over normal GDDR5, so using GDDR5X instead of GDDR6 on their newest Turing GPUs was out of the question. If you're in the market for something in the $200-300 price range, this new 1060 might not be a bad choice thanks to its use of GDDR5X which should ensure very little if any memory bottlenecking.