Nvidia's RTX 2080 Ti FE already out of stock, despite complaints about faulty cards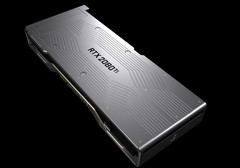 It looks like some media outlets have a bone to pick with Nvidia, blowing things out of proportion where it really is not the case. Yes, there are faulty RTX 2080 Ti cards out there and Nvidia admitted some cards did not go through the QA process, but the cards are out of stock now not because Nvidia was forced to delist them for too many manufacturing faults. The green team simply did not expect the demand for these cards to be so great.
It is true that Nvidia is in a bit of a pickle with the faulty RTX 2080 Ti FE cards, and the green team even admitted that some early cards somehow escaped quality assurance. The situation is not ideal, but Nvidia said it is within normal parameters, as these things tend to happen with all new generations. Some media outlets, however, went a bit too far by claiming that Nvidia is delisting the RTX 2080 Ti FE cards since the cards appear out of stock on the official site.

According to WCCFTech, these mass recall and delisting rumors are simply wrong. If anything, the dried-up stocks are a good sign for Nvidia, as the initial batches sold like hot cakes and the company is now waiting for a restock. Alternatively, gamers who want to buy RTX 2080 Ti cards right now, can opt for slightly more expensive custom versions from AIB partners.

An Nvidia rep made it clear to WCCFTech that the "2080 Ti Founders Edition is available on GeForce.com as usual. There seems to be confusion regarding the store link on nvidia.com which defaults to listing products that are currently in stock only. If a product does not show up there, that merely means the item is out of stock at the time you conducted a search. It does not mean a product has been delisted. Geforce.com is always your best choice for all things gaming related."

These sort of rumors are putting a dent in Nvidia's reputation and could influence the stocks, as well. Just recently the company has seen a 20% stock drop after a disappointing Q3 earnings report.