3DMark's new ray tracing benchmark is set to arrive in January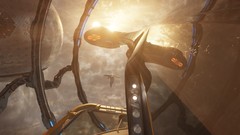 3DMark's long awaited ray tracing benchmark Port Royal is finally coming out in January of next year. After Battlefield V, it will be the world's second ray tracing compatible application that focuses on gaming and the world's first dedicated ray tracing benchmark for gamers.
UL, who develops 3DMark, has finally announced details and a release date for 3DMark's new ray tracing benchmark, Port Royal. Announced in September, the benchmark is finally releasing in January 2019, 4 months after the announcement of Turing and 2 months after Battlefield V's ray tracing patch was released. Port Royal will be the second application gamers can test ray tracing on and it is the world's first ray tracing focused benchmark. It was developed with input from Microsoft, Intel, AMD, and Nvidia and it will only run in DX12 using Microsoft's DXR API for ray tracing.
Currently, only Nvidia's RTX branded GPUs will be able to run the benchmark as UL says a DXR compatible GPU is required. This is not surprising since, in theory, AMD's current gen and Nvidia's previous gen GPUs simply don't have the hardware to render real time rays. While performance in Battlefield V was very disappointing with RTX settings on, UL is promising that this benchmark will offer "reasonable frame rates at 2560 × 1440 resolution" and that Port Royal is a "realistic and practical example of what to expect from ray tracing in upcoming games." Hopefully UL can show the most efficient methods of ray tracing, creating the highest quality visuals for the most minimal performance hit.