Gold-plated water block adds bling to your RTX Titan or Nvidia RTX 2080 Ti graphics card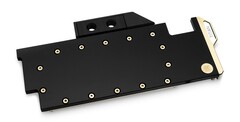 The liquid cooling specialist EK Water Blocks has revealed a new product for owners of Nvidia Titan RTX graphics cards. The EK Vector RTX Titan is a special edition water block that features an acetal top cover, RGB lighting compatibility, and gold-plated screws. For the pièce de résistance, the EK Vector RTX Titan brandishes a gold-plated cold plate.
When you have spent in the region of US$2,500 on a graphics card, you might not care so much about what it looks like compared to the performance you expect from it. But for some people, having an RTX Titan with 24 GB GDDR6 and a 384-bit memory bus interface for 672 GB/s of bandwidth just isn't quite enough. Sometimes, it just needs more gold.
Of course, apart from being generously smothered in parts with gold plating, EK's special edition Vector RTX Titan does have the usual practical use. It will help keep that ridiculously expensive graphics card cool so you can push it further. The water block has a full card size, and apparently it can be used on "multiple" GeForce GTX 2080 Ti cards, too.
Such expertise and golden glory doesn't come cheap though: The EK Vector RTX Titan with gold-plated features costs US$259.99 (pre-order price; shipping starts April 5). But if you can afford to splash out on an RTX Titan then you can probably stretch your budget for a showy water block that even has a corner plate that can be lit up.