Nvidia launches ray tracing driver support for previous-gen Pascal GPUs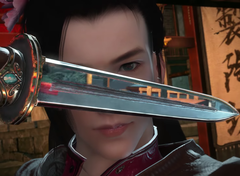 The latest GeForce Game Ready Driver from Nvidia enables a limited set of ray tracing features for the GTX 1000-series. Compared to the new RTX 2000 cards, the Pascal ones are clearly slower and Nvidia provides a set of graphs to reflect the performance gap. The green team also provides three tech demos where Pascal users can play around with the settings.
Previously only available to RTX 2000-series GPUs, Nvidia's real-time ray tracing acceleration is now supported on previous-gen Pascal cards starting with the GTX 1060 6GB models. The new GeForce Game Ready Driver version 425.31 also adds ray tracing support for the recently launched GTX 1660 and 1660 Ti cards, and Nvidia now provides three new ray tracing-focused demos that highlight the new features.
Pascal users now have access to basic RT features and low ray count effects for games like Tomb Rider, Metro Exodus, and Battlefield V. Additionally, there are the Justice and Star Wars demos that can be downloaded directly from Nvidia's site, while the Atomic Heart demo is available from the MundFish official site. Granted, Pascal GPUs will not be supporting all the RTX and DLSS features found on the Turing GPUs and the framerates will be considerably low, but future games should at least allow Pascal users to play around with a limited set of settings gathered under what Nvidia calls the DXR group of effects.

With this move Nvidia hopes that more users would appreciate the improved visual quality and make the jump to the new RTX 2000-series cards, which also allows for smoother framerates with all the ray tracing effects plus the more advanced DLSS anti-aliasing method enabled.