GTX 1060s on sale now upgraded to GDDR5X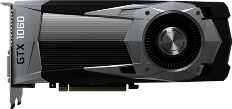 The NVIDIA GeForce GTX 1060 is still competitive at the sub-US$400 price bracket. It was originally released with 6GB of GDDR5 memory. A change to its product page on its maker's website now suggests that there are GDDR5X versions of the card.
Working For Notebookcheck
Are you a techie who knows how to write? Then join our Team! Especially English native speakers welcome!
Currently wanted:
News and Editorial Editor - Details here

The GTX 1060 may still be an option for those with a budget of about US$300 for the GPU of their next build. It came with 6GB in memory, which ran at 224GB/s of bandwidith on 1280 CUDA Cores. The 1060 started at a base of 1506MHz, which could be boosted to 1708MHz. A WCCFTech correspondent has just noticed that there is a subtle but possibly important change to these specs.
The 1060 originally offered GDDR5 memory; now, however, NVIDIA's own site now says that GDDR5X is also an option for this card. WCCFTech hypothesize that Micron is supplying this upgraded form of memory. If so, it could have a speed of 10 gigabits per second (Gb/s), which could increase the card's bandwidth from 224GB/s to 240GB/s. However, NVIDIA still out the 1060's speed at its original 8Gb/s. In addition, the other specs of the GPU (including the TDP and required system power) remain the same.
On the other hand, GDDR5X could still help the 1060 compete with AMD's Polaris series, which is a release intended to occupy the mid-range GPU space. It remains to be seen which of these cards can make it their own.