The Digital Wellbeing app now available for testing on Android One handsets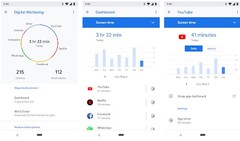 Only available for Pixel devices until now, the Digital Wellbeing app is finally ready for Android One handsets. The problem is that it only works on Android 9.0 Pie, so only Nokia 7 Plus and Nokia 6.1 Plus users can enjoy this piece of code until additional Android One devices receive the update.
Google introduced the Digital Wellbeing program earlier this year, during the I/O conference. In the meantime, the app found its way only to Pixel devices, but now Google is finally expanding its reach. Although there are plenty of Android One devices around, only those on Android 9.0 Pie can take Google Digital Wellbeing for a spin.
While the above seems great at first sight, there is one little-big problem: right now, the Nokia 6.1 Plus and the Nokia 7 Plus are the only two Android One handsets that run Android Pie. Obviously, others should receive the update in the coming months, but there will not be too many users to enjoy Google's health-related app yet (and to provide useful feedback to the makers of this piece of code, obviously).
If you missed the Digital Wellbeing app until now, you should know that Google's new tool aims to provide its users with detailed information on how often they use apps, how many times they check their phone, how many notifications they receive, and so on. Google Digital Wellbeing even includes anti-addiction tools such as daily app timers and the Wind Down feature that "reminds you to switch off at night, setting a schedule to fade your screen to Grayscale while Do Not Disturb silences notifications for a good night's sleep."
If you are one of those who can use this app, please share your thoughts about it with the rest of us. Is it as useful as it seems?