Intel may be working on a 10-core Comet Lake-S desktop CPU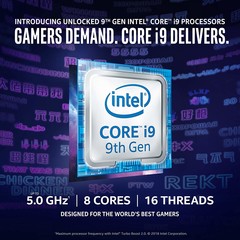 According to a Taiwanese forum thread that claims to have information from an inside partner meeting, Intel may be developing a 10-core consumer-grade CPU in the Comet Lake-S family. The CPU would be built on the 14 nm process and may use a dual-ring bus design, implying that the CPU will split cores between two dies.
Intel may have just released an 8-core CPU targeted at consumers, but it looks like the company may have plans to keep increasing core count in its mainstream chips. A rumor from a Taiwanese forum mentioned that a 10-core CPU may be in the works under the upcoming Comet Lake-S family of processors.
The forum thread doesn't divulge a lot of information, but according to the rumor, the CPU will be built on a 14 nm process, which jives with what we know about Comet Lake-S. Perhaps the most interesting detail offered is that the 10-core CPU will be built with a dual-ring bus interconnect. A dual-ring bus architecture tends to introduce some latency as the separate core rings have to flow through a buffered switch in order to communicate with each other. This is seen in Intel Xeon E5 v4 HCC (high-core count) processors.
The need for a dual-ring bus design is peculiar; a single ring design should be able to handle 10 cores without much trouble. However, a dual-die design would help with thermal dissipation, and a dual-ring bus would be necessary to connect the dies. Intel has been criticized for the poor thermal performance of the Core i9-9900K 8-core CPU. Overheating problems with the 9900K obviously limit overclocking potential and require beefy hardware cooling to prevent. A dual-die design may mitigate some of these issues.
Of course, this is all still a rumor. Despite claims that the information concerning a 10-core Comet Lake-S CPU came from a partner meeting, they are still unverified and should be taken with a large grain of salt. Still, considering that AMD is apparently already producing chips on a 7 nm process and can theoretically pack more cores into a similarly sized processor package (something AMD is known to do), Intel needs something big to stay competitive with Team Red.