Intel's Comet Lake-U i5-10210U SoC underwhelms on both Geekbench and GFXBench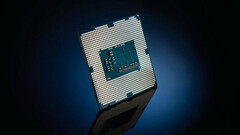 Intel's Comet Lake-U processor i5-10210U has been spotted on Geekbench and GFXBench. The results that have been recorded on both benchmarks aren't going to win any performance awards; however, the chip has a very low TDP and a presumed base clock of 1.6 GHz, so it's not expected to be a high-end processing solution.
The Intel Core i5-10210U has made an appearance on Geekbench, managing a single-core score of 3,944 and a multi-core score of 12,743. The Comet Lake-U SoC comes with four cores and eight threads, with a reported TDP of just 15 W. The single-core score puts the chip at a similar level as AMD's quad-core Ryzen 5 2400G. However, the Intel SoC is way above this particular AMD processor in the multi-core benchmark chart, where it sits at a similar point as the Kaby Lake-R i7-8550U.
When compared with another low-voltage processor on GFXBench 5.0, the Comet Lake-U i5-10210U certainly seems nothing special. Put against the Whiskey Lake i5-8265U and its UHD Graphics 620, the Comet Lake-U contender does not streak away in any of the tests (and even lags behind in a couple). Both SoCs manage over 30 fps in the offscreen and onscreen Manhattan 3.1 tests, and the older graphics solution actually outpaces the newer one in the Tessellation test.
It might seem surprising at first that an upcoming Comet Lake-U (CML-U) mobile processor hasn't scorched its way to the top of any benchmark records, especially when compared with older-generation chips. However, huge performance differences between generations/refreshes aren't always expected and it's likely the i5-10210U will still find its way into many future ultrabooks.