Alleged Intel Xeon W-3275 CPU records massive score in Geekbench multi-core test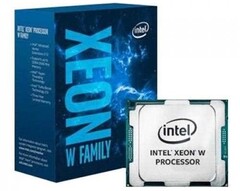 An entry for an Intel Xeon W-3275 processor has been discovered on Geekbench that shows a pretty remarkable result at least in the multi-core benchmark. While the single-core score for the CPU was still decent at 5,211 points, the multi-score recorded was a huge 39,869 points. The codename used in the record was Skylake-W.
While Geekbench records can be unreliable, they still make for good speculation. In this case, it appears an Intel Xeon W-3275 CPU has made a trip to the benchmark and performed quite spectacularly. While the single-core score of 5,211 puts the processor in the same neighborhood as the Intel Core i7-8559U and Intel Core i9-9940X in Geekbench's charts, the multi-core score puts the supposed Xeon W-3275 near the top.
The current champion of Geekbench's multi-core chart for processors is the Intel Core i9-9980XE with an amazing score of 46,310 (thanks to its 18 cores). However, a score of 39,869 for the Intel Xeon W-3275 puts it in fifth place, sandwiched between the Intel Core i9-9940X (40,928) and the Intel Core i9-7940X (39,298). As the processor is listed with 28 cores and 56 threads, this should be the sort of benchmark it excels at.
The Geekbench listing for the Intel Xeon W-3275 CPU states a base clock of 2.49 GHz and a boost up to 4.58 GHz. It wasn't that long ago that Intel launched the Xeon W-3175X CPU, which also has 28 cores and 56 threads, although its base frequency is measured at 3.1 GHz. The Xeon W-3175X high-end desktop processor had a release price of US$2,999.