Build 2019 | Microsoft talks about upcoming features to the Chromium-based Edge browser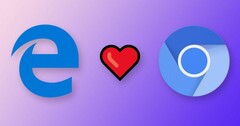 Microsoft has revealed some of its upcoming plans for the new Chromium-based Edge browser at Build 2019. Future builds of the new Edge browser will offer a Collections pane to neatly organize and export research, a new user-friendly privacy dashboard, a built-in IE mode, and improved developer tools for working with WebView and PWAs. These features are yet to make their way to public builds, but users can try out existing builds from the Dev and Canary channels to get a feel of the new browser.
Microsoft announced the decision to move the Edge browser to a Chromium code base late last year. Dev and Canary builds of the browser are now available to everyone for testing and the initial reception has been pretty good for work-in-progress software. At Build 2019, Microsoft detailed on some of the new features that it is working on for the new Chromium-based Edge (or Edgium in geek speak).
One of the new additions that will soon make its way to the new browser is Collections. Collections are a neat way to collect, organize, and share content. It leverages cloud-powered intelligence to export your research to online Office apps and arrange the information automatically in a logical way.
Also on the anvil is a new privacy dashboard that offers more clarity to users on things like tracking protection and cookies that are allowed and blocked. Users can now choose how much of an exposure they'd like to give to a third-party website.
Up till now, Windows 10 users in the enterprise had to manually invoke Internet Explorer for compatibility with intranet sites necessitating working between multiple browsers. The new Edge will offer a built-in Internet Explorer mode for those wanting to access legacy IE-only content within Edge itself. IT admins can use an Enterprise Mode list and Edge will automatically use IE mode whenever such sites are invoked. Therefore, IT Pros need to target only one browser instead of managing and training users on multiple ones.
Build is all about developers so Microsoft shared information on improvements to developer tools in the new Edge. The updated dev tools can now inspect and debug web content whether it is in the browser, PWAs, or WebView. Developers working with PWAs can now target their app for Windows and macOS given that Edge is now a cross-platform browser. Windows devs also get to have a first look at the new Edge-powered WebView that enables development of hybrid Chromium and Win32/UWP apps for the best combination of native functionality and up-to-date web versions.
Although many still prefer that Edge had stuck to its roots, given the increased acceptance of Chromium-based browsers, it makes perfect business sense. We did take 'Edgium' for a test ride and are happy at how things are shaping up. We'd recommend you try it out as well.