Microsoft releases new patch for Windows 10 1809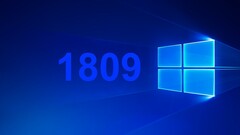 The next Windows 10 update, May 2019 (or 1903) is becoming available via early-access programs run by its maker. However, Microsoft is also still maintaining the current general build, 1809. This version of the OS now has a new patch that may fix a whole raft of issues.
For the majority of Windows users, the newest version they may have downloaded is still likely to be 1809. This update was originally pushed in 2018, and has been plagued with various bugs and issues ever since. However, its latest update may address at least some of the most recent ones.
This new patch, known as KB4495667, applies to all versions of 1809, as well as to the Windows Server 2019 OS. It adds the ability to run the Microsoft Office setup wizard from a default administrator account after downloading this program's installer in Edge.
The update also allegedly fixes a bug in which Internet Explorer Automation failed under some conditions, as well as one that rendered a touch-screen unresponsive after a reboot. They are joined by a whole host of both consumer- and enterprise-focused amendments, which are listed on the blogpost dedicated to their dissemination on Microsoft's website.
KB4495667 also has another important function: it resets the Japanese-language version of the OS so as to reflect the new era - beginning on May 1, 2019 with the abdication of the emperor Akihito - the relevant culture has entered.