New 20H1-based build makes it to Windows 10 Insiders Preview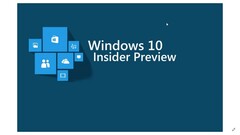 The latest Insider's Preview version of Windows 10 (Build 18912) has updated from 19H1 to 20H1. This preliminary OS fixes some bugs found in its predecessor, but may also be associated with some new ones. It also adds a new ability for Windows Narrator: the ability to read and relay the URLs behind click me-type links.
Working For Notebookcheck
Are you a techie who knows how to write? Then join our Team! Especially English native speakers welcome!
Currently wanted:
News and Editorial Editor - Details here

The Insider Preview ring of Windows 10 updates has progressed to a new build named 18912. Unlike some of its immediate predecessors, it gives an insight on what the Microsoft OS of 2020, and not later in 2019, will look like. This 20H1-based upgrade is relatively light on new features, however.
One of 18912's main attractions is a new option in Narrator. This accessibility feature can now take the bother out of links that normally must be clicked through to see what their URL is. Instead, Narrator 'reads' them via a connected service and calls them out to the user.
Besides this, the new 20H1-based update may fix some bugs found in the former Insider's Preview. For example, the Settings application may no longer crash during navigation to the Graphics Settings page. In addition, the new build has an update button on the taskbar that does not cause Settings to launch and then immediately crash.
However, build 18912 also has a number of bugs, probably the most important of which is an issue in which the anti-cheat software in some games may result in crashing. In addition, higher RAM use may cause the update to this version to download very slowly or not at all.