Respawn has banned over 770,000 Apex Legends players for cheating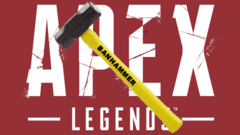 Following up on a promise to combat cheating in Apex Legends more than ever, developer Respawn announced in a blot post today that the company has banned over 770,000 players for cheating so far. The company also banned over 4,000 spam accounts in the past 20 days alone.
Remember, kids: cheaters never prosper. Especially in Apex Legends.
Developer Respawn and publisher EA have taken a hard line with cheaters in their popular battle royale title Apex Legends. Respawn announced last week that it was updating anti-cheat software for Apex Legends in an effort to even the playing field and punish cheat makers.
Respawn's efforts are starting to reap a large harvest. In a blog post earlier today, the company announced that it had banned a total of 770,000 players of the game. Additionally, over 300,000 account creations so far have been blocked. Respawn also banned over 4,000 accounts linked to spam over the past 20 days.
Respawn's efforts appear to have had a positive effect for non-cheaters. The company said that "total matches on PC impacted by cheaters or spammers has been reduced by over half in the last month due to recent efforts."
It should be noted that while Respawn is hard at work to reduce cheating in Apex Legends, human nature all but guarantees that cheating will never fully be eliminated. However, it is refreshing to see a large company take such efforts to correct balancing issues in order to make a game more enjoyable for all players.