Apex Legends datamine leaks suggest NPCs will watch you wall-running and flame-throwing all day and night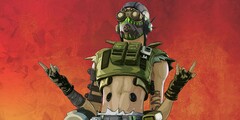 Dataminers have been busy exploring the code for Apex Legends, and it seems there could be some interesting developments coming soon for the battle royale hit. NPCs could be making an appearance in the game, as could flamethrowers. Arguably the most-exciting rumor for Titanfall fans is the possible introduction of wall-running.
Titanfall's mechs might still be conspicuously missing from Apex Legends, but it looks like a whole host of other features could be planned for the popular battle royale game. Dataminers have been scouring the in-game files for clues and potential leaks of upcoming changes that Respawn Entertainment might be considering.
NPCs have been mentioned, although it's unclear what their role would be in Apex Legends. They could be utilized for different game modes, or they could be there just to act as encouragement or as a hindrance to players. Flamethrowers could be on the cards too, as could be a day and night system. Night mode for the game has been one of the recent popular requests on Reddit.
However, as Apex Legends is based in the Titanfall universe, there will be many a player excited about the prospect of wall-running. Operating parkour-styled maneuvers is one of the standout skills available in Titanfall 2, and it makes sense to bring the ability to Apex Legends. Unfortunately, there's no time-frame for the eventual implementation of any of these datamined clues, but it does show developers are not just sitting on their laurels.