Build 2019 | Microsoft unveils Windows Terminal, a new unified command line app for Windows 10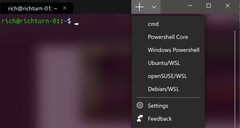 At the Build 2019 developer conference that kicked off today, Microsoft announced that it will soon introduce a Windows Terminal app that consolidates all command line interfaces including PowerShell, Command Prompt, and WSL into a single interface that supports tabbed views, GPU acceleration, and emojis. The company also announced that WSL 2 will also be made available later this year that will bring improved filesystem I/O, faster Linux startup, and native Docker container support.
One of the sore points about Windows for developers is the lack of a fully featured Terminal app. Things have gotten better with newer versions of Windows 10 and the introduction of Windows Subsystem for Linux (WSL) eased a lot of hardships for developers without having to resort to booting Linux VMs. Still, multiple terminal windows are required for running simultaneous instances of PowerShell, CMD, and WSL.
Not anymore. At Build 2019, Microsoft's premier developer conference, the Redmond-giant announced a new app called Windows Terminal that promises a redesigned command line experience including GPU-acceleration for text rendering, tear-away tabs, and full Unicode support including East Asian fonts, emojis and ligatures, and theme and extension support. Terminal will soon become the de facto program for all command line tasks. Windows Terminal is now available as a preview and will be released for public sometime in mid-June.
Microsoft also announced that it is working on the next generation of WSL, WSL 2 based on the Linux 4.19 kernel. Microsoft said that the same kernel is used to build Azure and will help in reduced Linux boot times and improved memory use. WSL 2 is also said to improve filesystem I/O performance and can natively run Docker containers instead of having to deploy VMs for the same. WSL 2 will launch as a preview later this year.
Source(s)
Microsoft Build 2019 Keynote