Intel presents 48-core Cascade Lake-AP Xeon CPUs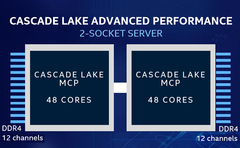 Intel may look like it is doing well right now, but the production problems will hit it hard in 2019. AMD ill not cut it any slack and will hit hard with the new 7 nm CPUs, but Intel has some retaliation plans, at least on the server side of things. The upcoming Xeon Scalable CPUs slated for late 2019 will integrate Multi-Chip Packaging technology that allows to fit 48 cores on a single chip, plus 12-channel DDR4 support.
Intel is still doing surprisingly great despite all the production problems related to some 14 nm mainstream CPUs. The Santa Clara giant is clearly having problems in the mainstream sector, as AMD is gaining considerable market shares with the Ryzen 2000-series, plus the read team is certainly going to be ahead on the production nodes with the launch of the 7 nm chips in early 2019, so now Intel is striking back on the server side presenting the new Cascade Lake Advanced Performance family of datacenter CPUs that promises the highest core count in a commercial processor to date.

With the new Cascade Lake-AP architecture, Intel is introducing a Multi-Chip Packaging method very similar to what AMD is doing for the EPYC and Threadripper chips. This allows Intel to fit several dies inside one chip, so the new Xeon Scalable CPUs can have up to 48 cores per chip, plus 12-channel DDR4 support. Additionally, Intel will offer new dual-socket motherboards that can host two 48-core CPUs and offer up to 24 DDR4 channels. Even though Intel may have the highest core count per chip with the new Xeon CPUs, it is still unclear if hyper-threading is among the features.

As far as performance is concerned, the new Xeon Scalable CPUs are said to deliver up to 1.21X the performance of an Intel Xeon Scalable 8180 CPU and up to 3.4X the performance of an AMD EPYC 7601 in Linpack tests, while in Stream Triad they can achieve 1.83X and 1.3X the performance, respectively. Moreover, the flagship CPUs will deliver up to 17X more performance for AI/Deep Learning tasks compared to the Xeon Scalable 8180.

Apparently, these new CPUs are slated for 2019-2020, and they could feature the 10 nm manufacturing process that Intel is still struggling to achieve.