HP refreshes the Pavilion x360 with Intel Comet Lake-U processors and dedicated graphics; starting at US$629.99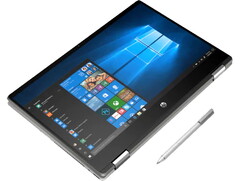 Not one to be left out, HP is bringing Comet Lake-U to its Pavilion x360 series. Spotted by renowned leaker @momomo_us, the 14-inch convertible comes with a choice of three Comet Lake-U processors, along with up to 16 GB of DDR4-2666 dual-channel RAM and an NVIDIA GeForce MX250 GPU. The refreshed line-up starts at US$629.99 and is available to order now directly from HP. Orders will start shipping on September 5.
Dell may have stolen the headlines with bringing the first Ice Lake-U powered device to market, but the XPS 13 7390 2-in-1 is mighty expensive. Starting at US$979.99 for the Intel Core i3-1005G1 powered base model, the series may be out of reach for those who want a powerful system but are operating on a tighter budget.
The Pavilion x360 may not be as glamorous as the XPS 13 7390 2-in-1, but it does start at US$629.99, US$350 cheaper than the entry-level XPS 13 7390 2-in-1 and still comes with a choice between powerful Comet Lake-U series processors. It also can be configured with a dedicated GPU and comes with a free active pen, which the XPS 13 7390 2-in-1 does not.
The entry-level Pavilion x360 has what will be a dreadful 14-inch SVA touchscreen, though, which operates at a measly 1,366 x 768 pixels. Fortunately, upgrading to a 1080p IPS panel only costs an additional US$50. You can offset this outlay slightly by switching from a frightfully outdated 5,400 RPM 1 TB HDD to a 256 GB PCIe NVMe SSD, which will save you US$20.
The Pavilion x360 comes with 8 GB of single-channel DDR4-2666 RAM by default, with it costing US$80 to upgrade to 12 GB and US$160 for 16 GB of dual-channel RAM instead. Additionally, HP allows you to configure up to a 1 TB 5,400 RPM HDD and a 256 GB SSD should you need more storage. Keeping the HDD will prevent the device from ever running silently though, as you will always hear the drive spinning, which would not be the case if you just equip the device with an SSD. HP has five CPU and GPU combinations too, which are as follows:
| Processor | GPU | Additional cost |
| --- | --- | --- |
| Intel Core i3-10110U | Intel UHD Graphics 620 | - |
| Intel Core i5-10210U | Intel UHD Graphics 620 | US$80 |
| Intel Core i5-10210U | Intel UHD Graphics 620 & NVIDIA GeForce MX130 (2 GB) | US$140 |
| Intel Core i7-10510U | Intel UHD Graphics 620 | US$190 |
| Intel Core i7-10510U | Intel UHD Graphics 620 & NVIDIA GeForce MX250 | US$270 |
All SKUs come with 1 year's warranty as standard, but HP offers up to 3-year and accidental damage extensions, the most expensive of which costs US$104.99. The Pavilion x360 14t is available to order from HP now, with the company shipping its Comet Lake-U convertible from September 5.