Mysterious 10510Y processor pops up on 3DMark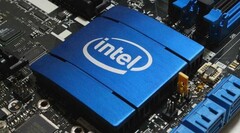 There has been mention of a 10510Y processor in a 3DMark record, according to noted database miner Tum Apisak. Although details about the chip are currently scant, the tipster did add that the CPU had been measured running at a clock rate of 1.5 GHz. A leaked Intel roadmap signified a 2020 release for Comet Lake Y processors.
It seems a Comet Lake Y (CML-Y) SoC, the 10510Y, has been spotted on 3DMark by Tum Apisak. The well-regarded tech informant stated the processor in question operated at 1.5 GHz, but unfortunately no other details (or screenshots, links, etc.) were shared at the time of writing. Intel's Y series of processors are aimed at devices that can function with extremely low power requirements.
According to an alleged leaked client commercial roadmap of Intel's CPUs, Comet Lake Y had been penciled in for the second quarter of 2020. The roadmap image demonstrates the CML-Y's low-end status with chips fabricated on the 14nm process and offering just two to four cores. The 10510Y follows the nomenclature given to Intel's 10th Gen product Core i7-10510U, which has been spotted on Geekbench recently.
One wag responding to Apisak's tweet commented "next gen Zen", but it seems safe to say the 10510Y is a 10th Gen Intel mobile processor. Many tablets and passively cooled laptops took advantage of Intel's Amber Lake-Y (Kaby Lake) range of SoCs, and the seemingly similar Intel Core i7-8500Y also had a base clock rate of 1.5 GHz. So it's possible the 10510Y will simply be a ULV refresh with some tweaks and refinements.
Source(s)
Twitter (Tum Apisak)com/TUM_APISAK/status/1152414877278859264