New update brings major improvements to the Asus Zenfone 6 ahead of highly awaited US release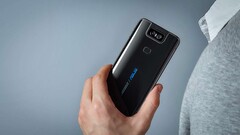 Since launch, the Asus Zenfone 6 has received a number of OTAs geared towards smoothening out the kinks in the phone's software and improving the overall user experience. Yesterday, the flagship received another one such update, making the Zenfone 6 even more attractive right before it hits the US officially.
The Asus Zenfone 6 was released a few months ago and has been hailed as one of the best-value flagships on the market. One of the device's major selling points are its software, as it features nigh-stock Android. Also, since launch, it has received a number of updates that have steadily improved the user experience.
The latest update hit the Zenfone 6 yesterday and brings major improvements across the board. Major items on the changelog include improvements to the rotating camera mechanism, Supernight Mode, EIS, call quality, and power consumption.
The Zenfone 6's cameras are already pretty good, so it's great to see the company work on smoothening out whatever kinks may have existed in the software. Asus has placed great emphasis on its recent Zenfone releases, and an update like this only reiterates the company's commitment to the device.
Meanwhile, the Zenfone 6 appears to finally be set to hit the US. The device is listed on B&H at the moment, with pre-orders set to begin on July 31. Better late than never.