More details on X570 motherboards allegedly leaked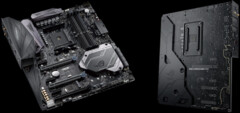 The X570 chipset is compatible with AMD's upcoming Ryzen 3000 series. So far, we have been led to believe that it will support PCIe 4.0 and will, obviously, next-gen performance and speed. A new leak appears to confirm its all-4.0 nature, as well as the number of USB ports an X570 motherboard may have.
The Ryzen 3000 series of CPUs is set to be compatible with the X570 chipset. As it is rumored to be associated with fourth-gen PCIe only, it may have the potential to harness the potential advantages of the new Zen 2 platform to the greatest extent. Accordingly, X570 is projected as destined for 'enthusiast'-level hardware, although third-gen Ryzen may also be compatible with X470 and X370 boards.
A new leak from the Chinese site BiliBili purports to corroroborate the prior indications that surround X570, and also to elaborate on them slightly. Firstly, it asserts that the new motherboards are capable of delivering speeds of about 4.5GHz, and that they are associated with 15% "improvements" over their predecessors.
The post goes on to state that the X570 platform is associated with a total of 40 PCIe 4.0 lanes. However, they are shared in part "with the SATA interface". It goes on to suggest that the new Ryzen memory controller is not as advanced as expected from generation to generation. This BiliBili article also puts the number of USB 3.1 gen 2 ports here at 8. Oddly, there are 4 additional USB 2.0s, and that's apparently it for X570.
This leak generally gives the impression that the new chipset is a little underwhelming based on the rumors about it. Nevertheless, the article may also indicates that it "has improved a lot". Therefore, the next generation of high-end AMD gaming boards could still be worth waiting for.