Biostar publishes list of 3rd Gen Ryzen-compatible motherboards and reveals "AMD Ryzen 3000 Desktop Ready" logo in the process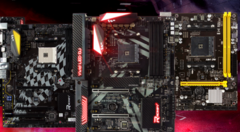 Biostar has announced the 300 and 400-series motherboards that will offer compatibility with AMD's upcoming range of Ryzen 3000 desktop processors. There are models from the A320, B350, B450, and X470 lineups that will be able to welcome the 3rd Gen chips. A promo image has also shown off the "AMD Ryzen 3000 Desktop Ready" logo.
Taiwanese hardware manufacturer Biostar has published a press release to inform enthusiasts about which of its motherboards will be compatible with AMD's Ryzen 3000 series of desktop processors. At the moment, 21 different products are listed that come from numerous AM4 300-series and 400-series motherboard lineups. The full planned list of Biostar models is as follows:
| | | | | | | |
| --- | --- | --- | --- | --- | --- | --- |
| B350ET2 | B350GT3 | B350GT5 | B350GTN | B450GT3 | X370GT3 | X370GT5 |
| X370GT7 | X370GTN | X470GT8 | X470GTN | A320MD PRO | A320MH PRO | TA320-BTC |
| TB350-BTC | A320MY-Q7 | A320MH | B45M2 | B450MHC | B450MH | Hi-Fi B350S1 |
The Biostar press release is accompanied by an image showing off some of its compatible motherboards and also features something that will have those who are expectant for the 3rd Gen AMD Ryzen processors excited to see. A silver and orange flash logo that features the words "AMD Ryzen 3000 Desktop Ready" is pasted in the bottom left corner, which clearly demonstrates that the vaunted processors will soon be unleashed upon the market.