Gigabyte preparing X499 motherboards for 3rd Gen Ryzen Threadrippers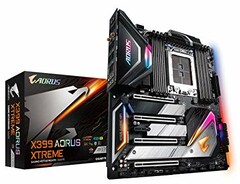 The names of three new Gigabyte motherboards have been revealed bearing the "X499" designation. It's believed at least one of the boards will be capable of offering 10 GbE network data rates. AMD is expected to introduce the X499 chipset specifically for the 3rd Gen HEDT Ryzen Threadripper processors.
The Gigabyte X499 Aorus Xtreme Waterforce, X499 Aorus Master, and X499 Designare EX-10G have all appeared on reports filed with the Eurasian Economic Committee. Previously, the X399 model chipset supported the TR4 CPU socket, with "TR" supposedly standing for "Threadripper". Although that chipset is compatible with both the 1st Gen and 2nd Gen HEDT chips, it seems AMD is preparing X499 for the upcoming Zen 2-based third generation of Ryzen Threadrippers.
With that in mind, manufacturers will need to produce the relevant motherboards, which Gigabyte appears to be doing. Not only has the Taiwanese company been preparing for the regular Ryzen 3000 series of processors with its X570 range of motherboards, now it seems Gigabyte is gearing up for Threadripper chips too.
It's not known how far along Gigabyte is in relation to the development of the numerous boards the company seems to be working on. AMD's Ryzen roadmap points to "mid-year" (May/June) for 3rd Gen Ryzen desktop processors but there is no current timeframe offered for the launch of the next generation of powerful Threadrippers, so Gigabyte might still have plenty of time left to produce the required hardware.