Lisa Su on AMD's Ryzen Threadripper processors: "you will definitely see more"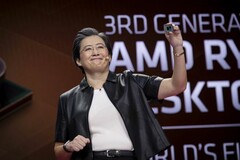 AMD's CEO, Lisa Su, has managed to allay concerns that development of 3rd Gen Ryzen Threadripper processors has been abandoned. An AMD Investor Presentation from March had the vaunted HEDT chips included in the 2019 AMD client lineup. However, May's presentation removed the next-gen Threadripper from the roadmap.
For those worried about the possibility of AMD no longer working on 3rd Gen Ryzen Threadripper CPUs, Lisa Su has some calming words for you. When quizzed about the HEDT series of chips and their future, AMD's chief said "you will definitely see more" in reference to Threadripper. Her full comment, which was noted by reporters after her Computex 2019 keynote, was:
You know. It's very interesting, some of the things that circulate on the Internet - I don't think we ever said that Threadripper was not going to continue - it somehow took on a life of its own on the Internet. You will see more [Threadripper] from us; you will definitely see more.
With the Zen 2 Matisse Ryzen 3000 processors looking ominously powerful, it seems obvious why Threadripper was removed from May's AMD Investor Presentation. The 3rd Gen Ryzen Threadrippers will have to be head and shoulders above their regular Ryzen 3000 counterparts, which at the moment appears to be quite a demand. AMD has already confirmed the 12-core Ryzen 9 3900X and there are still persistent rumors of a 16-core chip coming from the red team, which could end up being the entry-level SKU of the next-generation Threadripper series.
But as has been pointed out by PCWorld, the Ryzen Threadripper 1950X from 2017 featured 16 cores, and 2018's HEDT chips from AMD had the Threadripper 2950X with 16 cores, while the top-end Threadripper 2990WX boasted 32 cores. Logic could dictate that the next generation of Threadrippers, which could make an appearance in 2020, should at least start with a 24-core chip, just to make sure the series maintains its high-end reputation.