Lisa Su welcomes former Dell XPS chief Frank Azor aboard the good ship AMD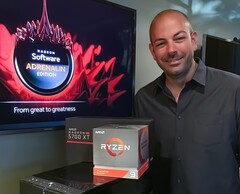 AMD's CEO Lisa Su has announced that former Dell executive Frank Azor has officially become a member of the red team. Su's tweet revealed that Azor will be the company's chief architect of gaming solutions. Azor has responded to the message with an acknowledgment of enthusiasm for his new role.
It was only a few weeks ago that we reported on the surprising news of Frank Azor leaving Dell/Alienware. There was plenty of speculation about what the next move would be for the man who had been so intrinsically linked with gaming hardware for so many years, and now it appears that Azor will be continuing to make waves in the industry he is indelibly connected with.
Obviously, it's far too early to predict what influence Azor will have over future AMD products, with one wag suggesting "RadeonWare" in response to the appointment. "Gaming solutions" could simply encompass the company's existing efforts in that field, such as with graphics cards and software, or it may imply that AMD is considering producing a larger device – even a gaming laptop or console.
Perhaps Azor can use his Dell XPS/Alienware know-how and experience to help AMD expand in this particular arena; after all, the company is not afraid of broadening its horizons and taking on existing established players (Intel, Nvidia, etc.) in tech-related markets. Either way, it seems to be a good move for both players: AMD gets an industry professional who knows the gaming niche inside out, and Azor gets to work at a company that is not afraid of sailing in uncharted waters.