Dell is equipping the XPS 15 7590 with different heatsinks depending on the configuration you buy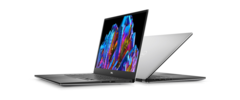 Contrary to Dell's service manual, not all XPS 15 7590 machines come with the same heatsink. Only the Core i9 models appear to have full VRM cooling, with Dell equipping the other SKUs with a slightly lesser cooler. As its predecessors demonstrated, all XPS 15 need active VRM cooling, so why the penny-pinching Dell?
Last month we reported on Dell equipping the XPS 15 7590 with an improved heatsink that should actively cool the Voltage Regulator Modules (VRMs), a first for an XPS 15. We would recommend having a read of our previous article if you have not already done so, as it explains why active VRM cooling is necessary for the XPS 15.
Unfortunately, it turns out that Dell is equipping its latest flagship multimedia laptop with different heatsinks depending on the version that you buy. The information comes courtesy of several Reddit threads, so we should stress that we cannot yet confirm the information. However, the pictures below are of XPS 15 7590 laptops, and the claims have been corroborated by numerous reported owners, so this seems more than just speculative claims.
Currently, it appears that only the Core i9-9980HK powered model has the same heatsink as in the XPS 15 7590 service manual. By contrast, all other SKUs lack the full VRM cooling of the Core i9 model, with Dell equipping them with a heatsink that covers only a few VRMs.
While this may seem like a minor difference, it could affect the ability of the Core i5-9300H and Core i7-9750H SKUs to cool their VRMs. As we covered in our previous articles, insufficient VRM cooling can and does lead to thermal throttling, as many people with the XPS 15 9570 will attest.
9th generation Intel Core mobile CPUs are basically just higher clocked versions of their predecessors, so they do not necessarily need any additional cooling. The inclusion of VRM cooling in the XPS 15 7590 is to address a historical fault with the series, so it seems baffling for Dell to only afford its most efficient heatsink to the most expensive XPS 15 7590 SKUs.
All models appear to have the same volume of VRMs too, so it is not like the Core i9 model needs additional VRM cooling. Disappointing stuff, Dell; especially when there have been multiple reports of XPS 15 7590 models suffering from FPS drops while gaming.