First Findings | Dell XPS 15 7590 OLED/i7-9750H/16GB/GTX 1650 in review
Introduction
While Notebookcheck has yet to receive an official review unit, I've purchased my own Dell XPS 15 7590 to review with the OLED/i7-9750H/GTX 1650 configuration for UltrabookReview. After using the notebook for several days straight and putting it through its paces, I'd like to share a summary of my findings so far here (for more details, please do check out my original review on UBR, which is still ongoing). Surprisingly little has changed on the XPS 15 from its initial launch in late 2015, and so my focus on 2019's XPS 15 7590 is on the few things that have (or ought to have) been updated: the display (a 4K OLED panel), CPU and GPU performance (i7-9750H and GTX 1650 in my unit), DPC latency, and general stability.
Please note that this is a subjective article based on my impressions as a reviewer very familiar with the XPS 15 series since 2015 and that my opinions may be subject to change with further usage.
The OLED Panel
One of the biggest changes in this year's XPS 15 is the addition of an option for a SKU with the ubiquitous Samsung 156WR04 15.6-inch OLED panel, and it's likely going to be one of the chief reasons some will be considering upgrading to this or other similar laptops. I have a few thoughts to share on the OLED panel in my unit, but please do keep in mind that these are my subjective impressions of the panel as a reviewer and user, and objective measurements like brightness distribution, lux, and colour accuracy will be coming from Notebookcheck soon.
This is the first OLED panel I've had in a notebook, and one of the firsts thing I noticed about it were the truly black blacks and glowing (nearly eye-searing at higher brightness) whites. It is a great feeling to start up a laptop and not notice any backlight bleeding or glowing around the edges of the panel at all, as this is something that often bothers me. The other thing I noticed as a long-time user of the XPS 15 series was the faster display response times, which result in noticeably less blur when scrolling or playing games when compared to the Sharp IGZO IPS UHD and FHD panels also available on the XPS 15.

There are some downsides to this panel, however. When displaying grayish solid-color backgrounds, there is a subtle-yet-noticeable graininess and vertical banding to the image, which I have tried to capture in the picture below. Having done a bit of research online, I have found that seems to be a common characteristic of OLED displays and one that could potentially improve after a few hundred hours of usage. Only having the display on for a few dozen hours so far now, however, I cannot reliably comment on whether this has seen any improvement or not yet. All I can say is that the banding is visible and bothers me on occasion; if you are also a perfectionist, it will likely bother you as well.
There are a couple of other downsides that were less unexpected. The first of which is higher power consumption when viewing white or light content such as word processors or certain applications with light-coloured themes, meaning battery life will vary significantly depending on the type of content you are displaying. There is an equalizing upside to this, however, and that is that if you can select darker themes for your apps or websites (as DuckDuckGo, YouTube, Discord, and many other websites are starting to offer now), you will see a fairly healthy decrease in power consumption. I am not certain yet about whether you will see better battery life using OLED on darker content compared to the touch IGZO panel, but I would guess that you will get a solid 8-9 hours of light usage with darker content on the OLED panel and around 5-6 hours with light content. This is something we will certainly do more testing regarding in our official Notebookcheck review, however.
The final downside I noted was the overall "comfort" of using the display for long periods. I enjoyed using the panel for darker content, but one particular use-case that I found uncomfortable with it was word processing, due to the bright white background and high-contrast black text overlayed on it. I didn't get any headaches or blurred vision, but I could feel my eyes were a bit bothered by it.
A question many people are going to be asking themselves is whether to spring for the IPS FHD, IPS UHD, or OLED UHD panel on the 7590. My general impression as someone who has owned the IGZO FHD, UHD, and OLED XPS laptops is that I actually prefer the IGZO UHD touch screen the best. With 100% Adobe RGB coverage and touch functionality, it beats out the FHD and OLED display options for most usage cases in my opinion. The FHD IPS panel is the one to go with if you will be working outside often, mostly be doing word processing, don't require touch, and want the most battery life possible. Finally, the OLED display is the one I'd suggest if you will mostly be doing content consumption such as movies, YouTube, or gaming, as its low response times and excellent contrast and vibrancy will give you the best media experience. As noted above, my personal call would be to not use an OLED display if you will be doing more than a few minutes of word processing on light backgrounds per day.
CPU Performance
The 2019 XPS 15 7590 is packing Intel's latest 9th generation Core i-series CPUs, with my SKU being equipped with the i7-9750H. The XPS 15 series have always suffered from some type of throttling issue, and this year seems to be no different, unfortunately. The chart below illustrates a 10-run Cinebench R15 64-bit Multi loop, with blue representing stock configuration and red with a -125mv undervolt and thermal repaste.
As with many modern laptops, there is a clear decrease in performance after the initial benchmark run. According to my HWiNFO graph monitoring, CPU temperatures spike quickly to 99C during the first run with stock settings, triggering a lowering of PL1 power limits and with lower clocks as a result. Using ThrottleStop to perform a modest -125mv undervolt on the CPU core and cache seems to improve the consistency of CPU performance considerably, however, which means that power users who are willing to tweak their machines will be able to squeeze quite a bit more CPU performance out of their XPS 15 than those who leave things as they are from the factory.
Dell XPS 15 7590 Intel Core i7-9750H, Intel Core i7-9750H:
Ø991 (950.07-1133.4)
Dell XPS 15 7590 Undervolted Intel Core i7-9750H, Intel Core i7-9750H:
Ø1106 (1061.09-1162.79)
Interestingly, there seems to be no improvement in performance between the i7-9750H and i7-8750H. In fact, the 9570 with i7-8750H achieves a higher CB R15 average score than the 7590 with technically "faster" i7-9750H CPU after undervolting. These results suggest that the XPS 15 has remained thermally constrained since the 9570, and thus there is likely not much benefit to putting CPUs beyond the i7-8750H in this chassis without major improvements in cooling design. Despite being rated for higher clocks on Intel's ARC, it seems that the additional boost clocks are unable to be utilized in this chassis.
In short, it seems there is likely to be little to no improvement in CPU performance between the 9570 and 7590 with 6-core CPUs, at least.
GPU Performance
GPU performance is somewhat of a mixed bag. On one hand, there is a clear increase in performance in firestrike benchmarks between the 9570 with GTX 1050Ti Max-Q and the 7590 with GTX 1650: 6875 for the former and 8068 for the latter at stock configuration; with a -125mv undervolt applied, this score jumped to 8200 on the 7590.
Running a stress test or game for any length of time revealed a serious problem with the XPS 15 7590's GPU performance, however. As reported earlier by Redditors, running more intensive games or CPU/GPU mixed loads for more than few minutes seems to result in the GPU's core clocks lowering to a measly 300 MHz ― a far cry from the ~1500 MHz the GTX 1650 normally runs at. Luckily, applying a -125mv undervolt resulted in much improved performance, with the firestrike stress test score increasing from 60.7% to 98.6%. More testing needs to be done with different games and benchmarks to determine whether a simple undervolt can resolve this issue satisfactorily, and hopefully Dell addresses this issue with a timely BIOS fix as well.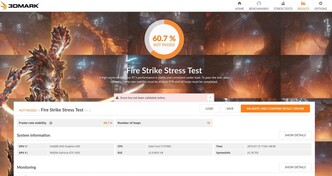 Latency
Latency has long been a bug-bear on the XPS 15 series, with high DPC latency resulting in issues such as artifacts and stuttering with real-time audio playback and production. Dell has previously issued attempted fixes for this issue, but my tests with LatencyMon still suggest that this machine may continue these issues for professional audio work.
I did run a test of playing 4 tracks simultaneously with Native Instruments Traktor Pro (DJing software) where I did not detect any audio skips or artifacts, but LatencyMon still recorded issues during the test. At the moment I don't think we can conclude DPC latency is no longer an issue.
Conclusion
It's too early to reach any kind of final conclusion on the XPS 15 7590 as of yet, but my initial impressions are mixed. I like the increased GPU performance the 1650 offers, but the fact that it's only achievable when undervolting makes me feel concern for the overall reliability of the laptop's performance, especially in the long run. Dell has lowered throttling temperatures without notifying customers via irreversible BIOS updates in the past, affecting performance for users, and this is something that makes me wary as well. The OLED display is nice when viewing media or playing games, but the high contrast makes word processing a bit uncomfortable for me while the banding and graininess while displaying some solid colors is a bit of a distraction, and I think I would still prefer the UHD IPS configuration of the XPS 15 as a result. Finally, latency seems slightly improved from past generations, but it's still by no means perfect for real-time audio, either.
If you are seriously considering picking up the XPS 15 7590, keep in mind that testing will continue on this machine as I update my more experiential live review on UltrabookReview, and here at NotebookCheck we should be able to conduct our usual full suites of tests within the next few weeks, as well. We hope you'll keep checking back with us as things develop.