Frank Azor leaves Dell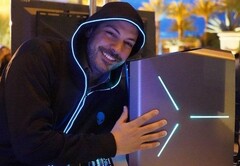 In a surprising revelation posted on both his Twitter account and the Alienware Arena website, Dell executive Frank Azor has announced that he will be leaving the company he has been associated with for over two decades. Although the soon-to-be former XPS and Alienware chief has not stated exactly what his next challenge will be, it seems he will be focusing on the gaming industry.
Frank Azor has recently shared a couple of tweets that will shock those who know about him in connection with his frequent informative posts in regard to popular laptops such as the Dell XPS 15 and the Alienware m15. The co-founder of Alienware and VP general manager of Alienware, Gaming and XPS will be leaving Dell on July 3.
Azor penned a poignant and positive letter that can be found on Alienware Arena. He talks a bit about his work in the industry and his experience, and of his pride in Dell, XPS, and Alienware. He makes mention of taking on a "new challenge", which is only slightly elaborated on in his second relevant tweet where he states he will "help continue to grow the gaming industry." Whether this means he is starting a new related company, moving into esports, virtual reality esports, or even to one of Dell's competitors is open to speculation for the time being.
The Dell executive has experienced huge success with the American computer manufacturer, with the XPS, Alienware lineup, and G series of gaming devices contributing to "over $3 billion in revenue", according to Azor. It seems likely that it won't be that long before the gaming enthusiast extraordinaire is making the news again, though:
[…] the builder and creator in me is ready for the next challenge.
From all of us at Notebookcheck.net: Good luck, Frank!