Azor plays down job speculation, takes a cryptic swipe at AMD and Dell in the process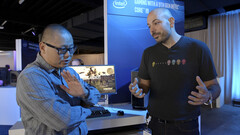 Don't count your chickens yet, AMD fans. Frank Azor, the outgoing VP and General Manager of Alienware and XPS at Dell, has cast doubts on his seemingly impending move to AMD. He appears to have made a subtle dig at the company too.
Yesterday, the internet jumped on rumours of Frank Azor joining AMD following the surprise announcement of his departure from Dell, effective July 3. All sources point back to Wccftech, which claims to have received information from an anonymous source that Azor will report to Sandeep Chennakeshu, the EVP of the Computing and Graphics Business Group at AMD, as Chief Gaming Officer.
No major outlet sought to ask Azor about the validity of this claim though, except Gordon Mah Ung at PCWorld. Now, we would not necessarily expect Azor to confirm a new appointment on a Twitter thread, despite his penchant for making announcements on the social media platform. We have included the tweet below if you missed it:
LOL reminds me of the movie Chef, one of my favorites

— Frank Azor (@AzorFrank) June 25, 2019
His response looks innocuous and that of someone batting away speculation, but it may include subtle jibes about AMD and Dell too. We could be far off the mark here, but we suspect that Azor is referring to the 2014 film starring Jon Favreau as Carl Casper, a chef who quits his role as a head chef at a top Miami bistro and buys a food truck to reclaim his creativity.
Spot the digs there? It appears Azor has subtly stated that he left Dell because the company was holding back his creativity. Taking the analogy further, Azor is likening AMD to a third-rate Dell, a food truck to a leading restaurant. Perhaps we are reading too much into the tweet, but it is food for thought, nonetheless.