Frank Azor: No more loud fans for the Dell XPS 15 9575 2-in-1 convertible thanks to the latest BIOS update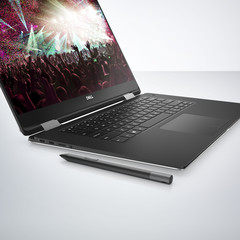 The latest BIOS update for the Dell XPS 15 9575 convertible should take care of the fans issue, revealed Frank Azor on Twitter yesterday. In the last month, more users complained that the fans of the new XPS 2-in-1 are extremely loud even under light load, some of them even stumbling into this problem on more than just one XPS 15 9575.
Although the Dell XPS 15 9575 2-in-1 is an attractive convertible that even comes in black (unlike the XPS 15 9570 laptop), this Coffee Lake-powered machine had to go through a few troubles already. First, it was the delay caused by the mag lev keyboard. Now, the time has come for an issue concerning the excessive amount of noise generated by its fans, a problem of which more users have been complaining about over the last few weeks.
Fortunately, this issue appears to have been finally solved, revealed Frank Azor yesterday. A Twitter user named Sean said that the fans of his second 9575 "are extremely loud even under light load" and quickly received the following reply: "Checkout the BIOS we just posted yesterday on support.dell.com without any other details.
The Dell XPS 15 9575 2-in-1 is currently available in four base configurations, starting at US$1,299.99 for the Intel Core i5-8305G model with 8 GB RAM and a 128 GB M.2 2280 SATA SSD. The high-end model features an Intel Core i7-8705G processor, 16 GB RAM, and a 256 GB M.2 2280 PCIe SSD. Its regular price is US$2,199.99, but these days you can grab it for just US$2,049.99. This model is the only one with a black color option and a 4K UHD touchscreen.
Even if your Dell XPS 15 9575 2-in-1 has no problems yet, you might want to keep an eye on the arrival of the patch for the recently discovered side-channel vulnerabilities known as Speculative Store Bypass and Rogue System Register Read. For more details, you should visit this support page.