Google Family Link hits 27 new markets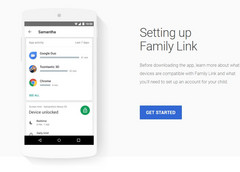 Available for phones and tablets that run at least iOS 9 or KitKat, Google Family Link allows parents to control the content available on their children's phones and tablets that run Nougat or later. Launched in the US back in September 2017, this service is now available in no less than 38 countries worldwide.
More than a year ago, Google introduced the Family Link service. After a few months of testing, this content management system launched in the US (at the end of September 2017, to be more accurate). In the months that followed, Google Family Link became available in 10 more markets. Now, 27 new countries have just been added, most of them in Europe.
According to the official Family Link page, this service can help parents to "set certain digital ground rules" for their kids, allowing them to manage the apps installed on the devices of their kids, keep an eye on their screen time, as well as remotely lock their phones/tablets.
The list of 38 countries with Google Family Link support includes Austria, Belgium, Australia, Canada, Chile, Denmark, France, Germany, Greece, Italy, Japan, Mexico, New Zealand, Poland, Spain, Romania, Sweden, the United Kindom, and a few others.
If you happen to be a parent who used this service already, it would be great to hear your thoughts about it in the comments.