Sharkoon claims its Gaming DAC Pro S can deliver sound card-level audio via any USB port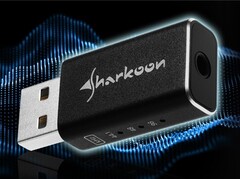 The Sharkoon Gaming DAC Pro S is a new product to which any headset with a 3.5mm jack can connect. It also has a USB type A interface to link the same to a PC. This may confer an improvement on the audio coming through the DAC.
Sharkoon is a company that makes accessories such as 3.5mm port splitters or adapters, some of which are aimed at highly demanding applications such as gaming. Its latest product is the DAC Pro S, a digital-to-analog converter with a USB stick-like form factor. Besides its advanced portability, Sharkoon claims that this new product can deliver improved audio to any conventional pair of headphones or headset.
The Sharkoon Gaming DAC Pro S has a gold-plated 3.5mm port at one end and a male USB type A at the other. This allows for its use with a PC (or possibly an Android phone with an appropriate adapter. Its maker claims that it can process 24-bit audio at 96 kilohertz (kHz) with a signal-to-noise ratio of "100 decibels". The DAC also apparently outputs this audio at 2 volts, which may make it appreciably loud.
Sharkoon asserts that these specs can improve the directionality of ambient noises during gameplay, as well as voice reproduction in-game. In addition, the Gaming DAC Pro S is targeted at audiophiles in general. This new product's price in USD has not yet been set, although it will be available through retailers such as Amazon on its release.