Computex 2018 | AMD will use Nvidia GeForce GTX 1050 graphics on a Ryzen laptop for the first time ever with the Asus X570ZD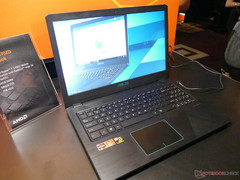 Red and Green in one consumer laptop without any tricks or eGPU docks. The Asus X570ZD laptop will be the first to incorporate a Ryzen 7 2700U APU with integrated Vega 10 graphics and a dedicated GeForce GTX 1050 GPU for more demanding tasks like gaming. AMD is promising the graphics switching technology to be seamless not unlike the current implementation of Nvidia Optimus on Intel-powered laptops. Prices, SKUs, and availability are all still under wraps for now.
As if it couldn't get any weirder than the partnership between Intel and AMD to create Kaby Lake-G, AMD today has unveiled a potentially more mind-boggling product between it and Nvidia. During the AMD press conference today, the chipmaker displayed a laptop running on a Ryzen 7 2700U APU with both integrated Radeon RX Vega 10 graphics and a dedicated Nvidia GeForce GTX 1050 GPU. It's not just for show either as AMD says mass production plans are already set to start by the end of this month.
An Asus representative took the stage to unveil said notebook to the surprise of loud whispers and confusion from the audience. He assured everyone that he wasn't deceiving our ears and that the idea of never seeing Radeon and GeForce together in a laptop was from a bygone era. Called the Asus X570ZD, the laptop can automatically switch to the Nvidia GPU much like an Intel laptop would when running Optimus.
We've attached photos from the event below to show that the example unit was indeed equipped with both Radeon Vega and GeForce GPUs. Nonetheless, it remains to be seen if the final product can actually run as seamlessly as an Optimus solution can. AMD would not disclose what kind of automatic graphics switching technology would be in place and the unit on show was not even able to load the Nvidia Control Panel. There are certainly some bugs to address if AMD hopes for this technology to take off. Nonetheless, we'll be keeping a very close eye on the development of this unit.