Nvidia will be giving away Max-Q laptops all month long in latest contest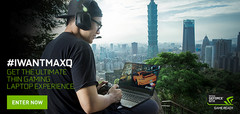 Take a picture of yourself using any laptop outdoors for a chance to win a brand new Max-Q laptop. Max-Q technology was designed for thin-and-light gaming notebooks that can also be used on-the-go like an Ultrabook. Only four winners will be announced on July 30th with specific Max-Q models from Acer, Asus, MSI, and Gigabyte.
Nvidia has a habit of running contests and raffles through social media to get everyone chatting about its latest devices. Its latest lottery just so happens to be directly associated with gaming laptops that should pique the interest of many of our readers. From now until the end of this month, Nvidia will be giving away one Max-Q laptop per week for a maximum of four through random drawings.
To enter, one must (1) take a photo of him or herself using a laptop outdoors, (2) upload said image to Twitter, Instagram, or Weibo, and (3) tag @NVIDIAGeForce with #IWANTMAXQ to be eligible. There is apparently no limit on the number of entries per person as well. The official contest page has already been populated with example entries and photos.
So, what are the four Max-Q laptops Nvidia is planning to give away? Users will have the chance to win an Acer Predator Triton 700, Asus ROG Zephyrus GX501, MSI GS65, or the Gigabyte Aero 15X. Nvidia isn't clear on the exact specifications for each, but we can't imagine winners complaining about a free gaming laptop especially since each of these can easily reach over $1500 USD retail. We highly recommend checking out our existing reviews to learn more on each of these systems.
The fine print for the Nvidia contest can be found here.