Deal | The Acer Aspire E 15 with a Core i5-8520U, MX150, and 256 GB SSD is currently available for less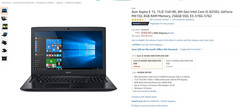 The Acer Aspire E 15 is an Amazon bestseller, and with good reason. The updated version of the notebook—with an i5-8520U, MX150, and 256 GB SSD is currently going for under MSRP.
Acer's Aspire E 15 series has become synonymous with amazing value for money. Across all price segments, laptops in the series provide great bang for buck, which is probably the reason why they always top Amazon's bestseller catalogs. One of the laptops in the series is currently available on a deal, offering even more value for money than normal.
The Acer Aspire E 15 on sale comes with an i5-8520U processor, MX150 GPU, 8 GB of DDR4 RAM, and a 256 GB SSD. The device has an MSRP of US$599, which is already impressive, but is currently available for US$569.99 (US$30 off).
The Acer E 15 is a laptop that can hardly be faulted for much. It comes with a brushed premium-looking body, a 1080p display, and a backlit keyboard. Battery life on the device is also exceptional, with users reporting up to 8 hrs of run time under medium load. That said, there isn't a fingerprint scanner or any other sort of new-gen biometric security technology in place. It also isn't the best-looking laptop in the market.
Speaking about looks, those in the market for something a bit more eye-catching should probably take a look at the Asus VivoBook F51OUA.