Microsoft offers new Surface Pro configuration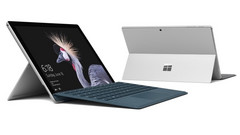 Microsoft has recently updated its store with a new configuration of the Surface Pro. It is now possible to buy an Intel Core i5-powered Surface Pro with 128 GB SSD and 8 GB RAM for US$999. Previously, Microsoft offered the 4 GB RAM version of the device at this price, but this model is now being advertised for US$799.
The folks at Neowin have spotted a small but interesting change over at Microsoft's store. The Surface Pro with Core i5-7300U and a 128 GB SSD now comes with a slightly altered configuration: It is possible to choose between 4 GB RAM or 8 GB RAM for this particular model. The 4 GB RAM version was previously available for US$999 but the Microsoft store now has the 8 GB RAM variant for that price point. The Surface Pro with 4 GB RAM has been discounted to US$799 but is currently listed as out of stock.
Notebookcheck reviewed the i5 version of the Microsoft Surface Pro 2017 and gave it a "very good" grade. This was for the model with 8 GB RAM and a 256 GB SSD, which was priced at US$1299 at the time of the review. It's currently possible to pick up this particular device for US$1099 at the Microsoft store, or you can choose the LTE version for US$1449.
There has been some speculation that Microsoft could be simply replacing the 4 GB version with the new 8 GB model. Regardless of the reasoning behind the change, the increase in RAM can be seen as good news for anyone out shopping for a Surface Pro today.