Update | OnePlus 6 now available in white, WiFi calling mysteriously absent in some European regions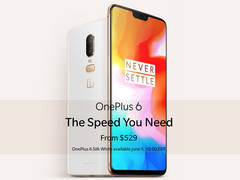 (June 7 update with OnePlus statement) Irate owners in Germany have started a petition requesting Voice over LTE and WiFi calling features to be enabled on their new OnePlus 6 devices. OnePlus has clarified that its OnePlus 6 is already equipped with the necessary bands to support such features. Instead, it is the carriers that must support VoLTE and WiFi calling for the latest smartphone.
(June 7, 2018 update: OnePlus has clarified that there is only one OnePlus 6 SKU across Europe and that it is already equipped with all the relevant bands. The option to support VoLTE or WiFi calling is entirely up to the carriers. OnePlus has not disabled or removed any of these features from its latest model. Our original article reads below.)
The OnePlus 6 launched in just two color options (Midnight Black and Mirror Black) late last month. Fans who have been holding out for a brighter third color option are now in luck as the manufacturer has announced a Silk White color for immediate availability.
On the same day as the above announcement, however, certain OnePlus 6 owners have been opening up about the baffling lack of Voice over LTE (VoLTE) and WiFi calling. In particular, users in Germany have been complaining that both features are inexplicably disabled with the three largest service providers (Telekom, Vodafone, and O2) in the country. The OnePlus 6 supports VoLTE and WiFi calling in India but not Germany even though the hardware is completely identical between the two regions. Even T-Mobile users in the U.S. can take advantage of WiFi calling.
Outspoken German owners of the OnePlus 6 have started a petition for OnePlus to enable the missing features on their brand new purchases. The petition has collected only a few hundred signatures so far, but we welcome all OnePlus 6 owners to support the cause below. At the very least, an official response from OnePlus can help answer why these useful features are not available in certain regions.
VoLTE and WiFi calling can improve call quality and allow owners to make calls in areas with poor reception, respectively. WiFi calling can also extend battery life as it is more power efficient than a standard call made directly over the network.