Intel kills off the Compute Card initiative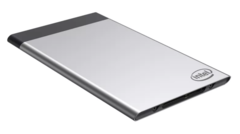 Intel has confirmed that it is killing off further development of its Compute Card platform. Similar in size to a credit card, Compute Card was teased at CES 2017 and first unveiled at Computex 2017 and promised modular upgrades for computers, smart TVs and other devices.
The Intel Compute Card was definitely an interesting product. If offered the possibility of a modular computing platform that provided the brains of any type of device that partners could see its potential. This included device like desktops, laptops, tablets, smart TVs, digital signage, kiosks and you get the general idea. Just pop in the Compute Card and keep your device up to date with the latest Intel silicon without having to replace the entire device.
Intel first unveiled the platform at Computex in 2017 and it featured low wattage seventh-generation silicon. It came in with a range of embedded RAM and storage options to hit different price points. Intel also shipped its own Compute Card dock that turned the device into a fully functional ultra-compact desktop PC. Unfortunately, Intel has now confirmed with Tom's Hardware that it has killed off the platform and there will be no sequels.
Undoubtedly, it will be a bitter pill for partners that invested in creating compatible devices for the Compute Card and for those customers who bought into ecosystem as well. Particularly as they won't even enjoy the benefits of a single upgrade to even eight-gen chips. One of those partners, NexDock highlighted just how much effort its team had put into getting its compatible modular laptop ready only to have to mothball it.