OnePlus reportedly scores about 1 million reservations for the 7 Pro in China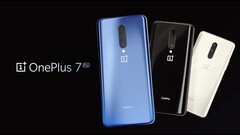 A well-regarded tipster claims to have heard that OnePlus has managed to amass 1 million reservations for units of its new flagship, the 7 Pro. These reservations could be made in China only in advance of the phone's launch. Therefore, it seems the latest pop-up selfie-cam device is very popular there.
The respected leaker Ice universe has noted that the OnePlus 7 Pro has amassed 1 million reservations on Chinese online stores by now. Although the tipster did not mention where this information came from, it is plausible in the face of other similar alleged successes on the part of Lenovo.
The OnePlus 7 Pro was launched on May 16, 2019 in Beijing. However, the phone was available to reserve from May 13. Therefore, the OEM may now be in a position to say that it attracted 7 figures' worth of these 'pre-pre-orders' in only 5 days. That number would have been split between OnePlus' own website and JD.com, the only 2 platforms on which this option was available.
However, this is still no indication of how many actual sales or pre-orders the company has amassed yet. In addition, the number of reservations per OnePlus 7 Pro variant (one of which is a Nebula Blue 12GB RAM SKU) are also uncertain at this time. This data will be interesting, should it ever be released. It would also be worthwhile to see how the base 7 model does against it. This phone is sold in either Mirror Grey or Red; the latter is exclusive to the Chinese and Indian markets.