Samsung could be upsetting the applecart with radical camera setup changes for the Galaxy Note 10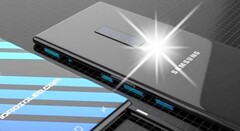 Leaked information about the Samsung Galaxy Note 10 has offered a surprise in regard to the upcoming device's camera setups. Although the actual details that have been shared are somewhat vague and even ambiguous, it hasn't stopped commentators speculating on what the South Korean manufacturer is preparing for its flagship phablet.
Now we know 64 MP is off the table for the Samsung Galaxy Note 10, there might not be as much excitement about the device's camera setups now. For those that were feeling somewhat deflated about the news of the phablet possibly "only" using a 48 MP sensor, the latest leaked information could be even more crushing.
Tipster Ice universe has offered these sage words this time around: "Da Vinci's two biggest changes: 1. Change the front camera position. 2. Change the rear camera position." Da Vinci is of course the codename for the Samsung Galaxy Note 10. Changing the front camera position would likely clarify that the next series of high-end phablets will indeed come with the centered punch-hole selfie camera that is already expected. In contrast, the Note 9 had its front-facing camera hidden in the top bezel just to the right of center.
It's the leaker's news about the changing of the rear camera position that has the most commentators in a fluster. The Note 9 had a horizontal alignment for its rear camera system and this was expected to continue with the successor series, but Ice universe has seemingly confirmed that the Samsung Galaxy Note 10 will have a vertically aligned camera arrangement. This setup could go down one of the sides, or more likely if the phablet wants to maintain its oft-mentioned "symmetry" then the alignment would have to run down the middle of the rear, akin to the OnePlus 7.
Perhaps surprisingly, being the champion of Samsung Galaxy Note 10-related leaks, when asked if he liked the changes being made Ice universe answered with a simple "no". He also mentioned that the camera hardware would remain the same, which would mean the 2019 flagship phablet series would feature 12 MP sensors.