This is NOT the Samsung Galaxy Note 10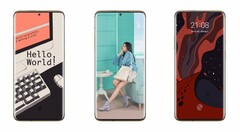 Images of a mystery smartphone have been shared on Twitter, with some tweeters immediately presuming they were gazing at the upcoming Samsung Galaxy Note 10 for the first time. Unfortunately, it was quickly revealed that the renders were not of the coveted phablet. In other Note 10 rumor news, the possibility of it coming with UFS 3.0 storage seems more likely.
Pictures of a smartphone uploaded by Ice universe to his Twitter account were quickly receiving inquiries about whether they were of the anticipated Samsung Galaxy Note 10 phablet. The device in the images has an incredible look to it: The three hardware buttons are barely visible, the screen-to-body ratio looks immense, and there is a convenient "symmetrically" placed punch-hole cut-out for the selfie camera.
Sadly for expectant fans waiting for any drop of a leak about the Galaxy Note 10, it didn't take long for people to tweet the truth: The images in question were based on the renders of the forthcoming OnePlus 7 Pro with a little bit of Photoshop trickery added to the mix. The OnePlus 7 Pro has opted for a pop-up camera solution, so adding a punch-hole to the device's full-screen display in the pictures and shaving the hardware buttons down a little turned it into a potential Samsung Galaxy Note 10.
However, the images shared by the noted tipster do bear considerable resemblance to previous concept images of the Samsung Galaxy Note 10 (see below). Beyond the wishful thinking, one persistent rumor about the phablet has reappeared: That the Samsung device will receive UFS 3.0 storage. Considering the manufacturer, this is a pretty reasonable rumor; although as we already reported, the Galaxy Note 10 won't be the first device with this super-fast solution.